Description
Women's Body Armor – Level 4

Women's body armor is now available from RMA Armament, the Queen of Armor. With an ever-growing number of women in military and law enforcement, along with civilians who have the desire to protect themselves from evil, it's about time that an armor company decides to return the favor and also protect them. Women have been forcing male armor plates into their male plate carriers for decades. No longer.
Let's face it; women have a vastly different anatomy than men. So women's armor protection needs to take on a different size and shape. Accordingly, RMA's new FSAPI Level 4 body armor for women has a proprietary female architecture. And, this FSAPI plate doesn't cut corners when it comes to protection. Firstly, it's rated to defeat the Level 4 body armor standard 30.06 M2AP. Additionally, it will also defeat M80 NATO, 7.62×39 MSC, M855, M855A1, XM193, and more.
The 1118 FSAPI Level IV female armor plate from RMA is available in a custom-engineered 9″x11″ size and also weighs only 6.9lbs.
// The Need for Women's Body Armor
In the United States, there are nearly 100,000 female police officers, which represents 13.3% of all law enforcement personnel.
Additionally, nearly 230,000 women serve in the US military on active duty according to a diversity study done by the Department of Defense.
Those two studies don't touch on reserves, auxiliary, or the needs of women who work in high risk professions. Additionally, women everywhere want better home defense and protection for their families. Suffice it to say, there is a great need for female armor in the United States.
// BACK PLATE COMPATIBILITY



The RMA 1118 female ultra-curve plate should only be worn on the FRONT. For body armor protection on the back, please also purchase a single-curve Level 4 female armor plate to ensure carrier compatibility.
// CARRIER COMPATIBILITY
RMA's new FSAPI women's armor has a specialized curve architecture, size, and shape. Accordingly, RMA has brought to market the Queen Plate Carrier. The QPC is built specifically for our FSAPI Level IV female armor plates to guarantee a perfect fit.
Our new 1118 female Level IV armor plates are also compatible with size small Crye JPC 1.0 & 2.0, although there is some wiggle room.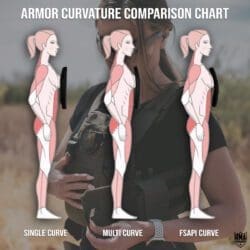 Details:
Stand Alone Body Armor

Full Edge-to-Edge Protection on its 9″ x 11″ Strikeface

Warranty: 10 Year Manufacturer's Warranty
Armor Shape: Advanced Female Ultra-Curve
Armor Cut: Swimmers Cut
Weight: 7.0 lbs (+/- 0.125 lbs variance)


Thickness: 1″

Armor Build: Alumina Oxide Ceramic & Polyethylene

600 Denier Water Resistant Cover

NIJ 0101.06 Tested

Free Incident Replacement (If our armor saved your life, please let us know!)

Made in Centerville, IA – USA
PLEASE NOTE THAT BY PLACING AN ORDER YOU AGREE TO COMPLY WITH ALL LOCAL, STATE, AND FEDERAL LAWS REGARDING BODY ARMOR.
18 U.S. Code § 931. United States law restricts possession of body armor for felons convicted of a crime of violence (as defined in 18 U.S. Code § 16). Many U.S. states also have penalties for possession or use of body armor by felons. By purchasing body armor from RMA Armamant, Inc. or employees of RMA Armament, Inc., you are certifying that you have not been convicted of any crime that would restrict you from being able to purchase or possess body armor under any Federal or State laws.
***DUE TO THE LIFE-SAVING NATURE OF THIS PRODUCT, ALL SALES ARE FINAL***