Description
The Crye JPC 2.0 is a lightweight and low profile plate carrier designed for maximum mobility, weight savings, and packability. At just over one pound for the entire carrier, the Crye JPC 2.0 offers a variety of configuration options to suit an operator's needs in terms of protection, modularity, and comfort. All AVS™ detachable front flaps are compatible (sold separately). The Crye JPC 2.0 plate carrier features Crye Precision's SKELETAL™ CUMMERBUND system with a patented Integrated Attachment System that allows pouches to be mounted on both the inside and outside of the cummerbund. The Crye JPC 2.0 system sheds unnecessary weight and bulk while improving overall ventilation of an already low profile plate carrier.
Are you in the market for body armor to go along with your JPC 2.0? RMA currently has Level 4 Body Armor Kits with the JPC 2.0 available. The Crye JPC 2.0 level 4 body armor kit comes complete with a JPC and two multi-curve level IV body armor plates.
Body Armor Compatibility
It's important to note that the JPC 2.0 is specifically designed for multi-curve, SAPI sized plates – small through extra large – and RMA's Level 3+ body armor plates fit the bill. If you choose a medium sized carrier, you'll need to purchase a size medium plate carrier.
The size medium JPC 2.0 is also compatible with 10×12 body armor plates – both single curve and multi-curve. The Lightweight Level 4 Plate is a great option for the JPC 2.0, as is the Lightest level 4 plate we produce, model #1192.
JPC 2.0 FEATURES
Easy 2-step emergency doffing capability

Hidden vertical webbing loops on front carrier supports detachable chest rigs

High performance stretch material that allows for plates of varying thickness

VELCRO® brand panel on the front of the carrier allows detachable MOLLE or mag pouch front flap

Zippers along the sides of the back carrier for zip-on panels

Low-profile cummerbund attachment that provides maximum adjustability and allows for chest expansion as needed

Webbing loops on the back of the shoulder straps to support back panels

Drag handle that supports up to 400 lbs.
Crye Precision Plate Carrier Colors Available: Multicam, Coyote, Black, Ranger Green, Multicam Black, Multicam Arid
More Information: For additional resources on the Crye Precision JPC 2.0, please see this document: JPC 2.0 Operators Manual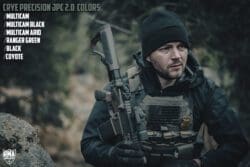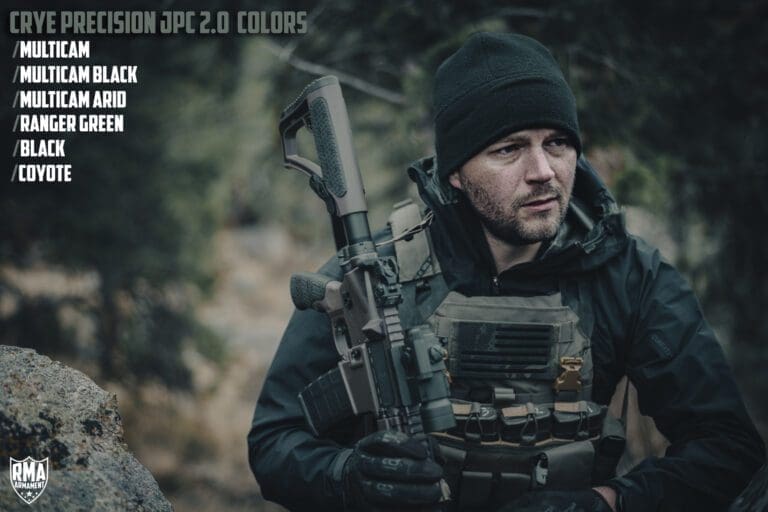 PLEASE NOTE THAT BY PLACING AN ORDER YOU AGREE TO COMPLY WITH ALL LOCAL, STATE, AND FEDERAL LAWS REGARDING BODY ARMOR.
**United States law restricts possession of body armor for convicted felons. Many U.S. states also have penalties for possession or use of body armor by felons. RMA Armament, Inc., is also unable to ship any body armor plates, Shields, etc. to the state of Connecticut. By purchasing body armor from RMA Armament, Inc., you are certifying that you have not been convicted of any crime that would restrict you from being able to purchase or possess body armor under any Federal or State laws. Furthermore, you are acknowledging that you do not intend to use the body armor for any criminal purpose. RMA Armament, Inc., does reserve the right to refuse to sell body armor to any person.
***DUE TO THE LIFE-SAVING NATURE OF THIS PRODUCT, ALL SALES ARE FINAL***