Description
Team Wendy Exfil Ballistic Helmet with Rail 2.0 or 3.0
​The EXFIL® Ballistic Helmet features a hybrid composite shell for increased strength and a unique geometry for optimal fit. An innovative, boltless CAM FIT™ retention quickly adjusts to individual head shapes, providing comfort and stability. A Zorbium® foam liner protects against impact and allows for an overhead communications headband. Customizable fit is achieved through a set of moveable comfort pads. A lanyard-compatible Wilcox® shroud* secures any standard NVG mount.
The EXFIL® Ballistic is available with EXFIL® Rail 2.0 or EXFIL® Rail 3.0. The EXFIL® Rail 2.0 accessory mounting system is compatible with most EXFIL® accessories and features T-slots for custom mounting. The EXFIL® Rail 3.0 accessory mounting system is compatible with all EXFIL® accessories, including the EXFIL® Ballistic Visor and the EXFIL® Face Shield. 
*NOTE: While the Wilcox® W shroud comes standard with the EXFIL® Ballistic, the NVG mount/interface required for attaching night vision devices to the helmet, such as the Wilcox® G24, is not included.
Team Wendy EXFIL Helmet Performance
Independently tested to meet all performance requirements of BS EN 1385:2012 standard for whitewater helmets.

Complete system weight includes helmet shell, accessory rails, shroud, impact liner and retention system. Weight may vary slightly between sizes and is dependent on the quantity of liner pads the user chooses to install.
Team Wendy Helmet Sizing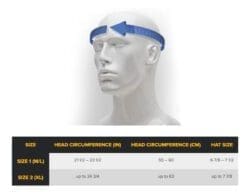 PLEASE NOTE: If you are in between sizes, we recommend going up to the larger size. You can customize the fit with the comfort pads that are included with your helmet purchase.