Description
Team Wendy Bump Helmet Exfil LTP with Rail 3.0
The EXFIL® LTP (Lightweight, Tactical, Polymer) Team Wendy bump helmet with Rail 3.0 provides impact protection for maritime environments. Plus, it's a stable, comfortable platform for mounting night vision and other accessories. The built-in NVG shroud* utilizes an integrated machined aluminum shroud insert. The helmet features a Zorbium® foam liner along with a CAM FIT™ Retention System. Cam Lock sliders are easily adjustable and compliment the micro-adjustable BOA® Fit System.
EXFIL® Rail 3.0 is compatible with most EXFIL® accessories and also features T-slots for custom mounting. The EXFIL® Rail 3.0 accessory mounting system is compatible with all EXFIL® accessories. Compatibility includes the EXFIL® Ballistic Visor and also the EXFIL® Face Shield. 
Team Wendy Bump Helmet are compatible with a variety of helmet bags, such as the Mule Carry Bag by 0331 Tactical, which provides an easy, yet rugged way to carry all your tactical gear.
*NOTE: The NVG mount/interface required for attaching night vision devices to the EXFIL® LTP helmet is not included.
Team Wendy Bump Helmet Performance
Meets all performance requirements of BS EN 1385:2012 standard for whitewater helmets.

Complete system weight includes helmet shell, accessory rails, shroud, impact liner and also retention system. Weight may vary slightly between sizes and is also dependent on the quantity of liner pads the user chooses to install.
Team Wendy Bump Helmet Sizing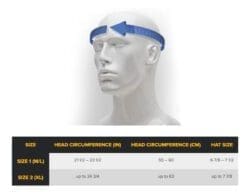 PLEASE NOTE: We recommend going up to the larger size if you are in-between sizes. Plus, you can also customize the fit with the comfort pads. Your helmet purchase also includes comfort pads.
PLEASE NOTE THAT BY PLACING AN ORDER YOU AGREE TO COMPLY WITH ALL LOCAL, STATE, AND FEDERAL LAWS REGARDING BODY ARMOR.
18 U.S. Code § 931. United States law restricts possession of body armor for felons convicted of a crime of violence (as defined in 18 U.S. Code § 16). Many U.S. states also have penalties for possession or use of body armor by felons. By purchasing body armor from RMA Armamant, Inc. or employees of RMA Armament, Inc., you certify that you have not been convicted of any crime that would restrict you from being able to purchase or possess body armor under any Federal or State laws.
***DUE TO THE LIFE-SAVING NATURE OF THIS PRODUCT, ALL SALES ARE FINAL***