CENTERVILLE, Iowa (September 5, 2023) – RMA Armament, Inc., the King of Armor®., the industry's leader in ceramic hard armor performance in law enforcement and civilian markets, strongly disagrees with the Safety Notice issued against RMA's Level IV model 1155 hard armor plate on Friday, September 1st, 2023.
First, it is important to understand that all Model 1155 plates manufactured and purchased prior to the NIJ Safety Notice dated September 1, 2023 are in fact NIJ Compliant per the NIJ CTP Operations Manager, and a review of the NIJ Compliant Products List prior to September 1, 2023 confirms that fact.
Background
On February 15, 2023, in the course of a routine randomized NIJ Follow Up Inspection Test (FIT) test at NTS-Chesapeake, it was determined that 1 plate out of 4 tested … 1155 Single Curve plates did not perform at the expected M2AP Level IV standard, according to representatives at NTS-Chesapeake (site of the test).
In response to the alleged failure of one of the test samples, RMA immediately began the process laid out by the National Institute of Justice.
RMA even went above and beyond the prototypical NIJ FIT test response, subsequently having NTS-Wichita and NTS-Chesapeake both conduct laboratory tests on the numerous production lots in RMA's inventory—including the single potentially affected lot—and all plates successfully passed without issue (see test reports here and here). Critical to the discussion is the fact that NIJ found no variation in plate construction from our certified model which has passed numerous past NIJ FIT tests, end user field tests, in-house tests, independent laboratory tests and which is credited with numerous saves.
On May 31, 2023, RMA was granted access to the alleged failed plate from February 15th FIT. Upon examination, RMA (alongside NIJ representative Mark McCombs) immediately noted that the 1155 plate with serial number 20230310010 had no hole in the rear of the plate. Upon further examination with Mr. McCombs present, it was discovered that the M2AP jacket and penetrator were still embedded inside the plate (Exhibits A1 & A2).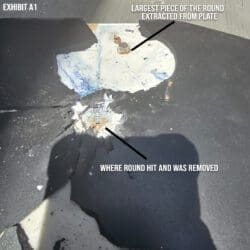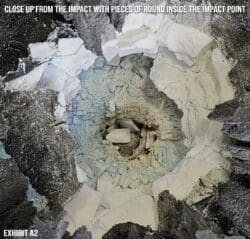 This, of course, raised serious concerns due to the fact NTS Chesapeake stated on February 15th that they extracted the bullet and penetrator from the clay block after it exited through the plate. When RMA CEO Blake Waldrop asked Mr. McCombs about the findings, Mr. McCombs stated that this doesn't appear to be a complete penetration.
RMA then conducted further examination by utilizing its water-jet machine to cut the plate in question in half with Mr. McCombs present, only to discover the last several layers of backing material were not compromised (Exhibits A3 & A4).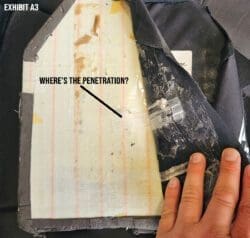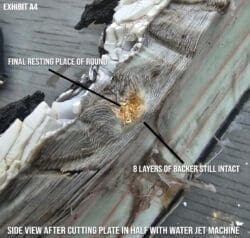 Mr. McCombs then retook possession of the plate in question to another NIJ accredited lab, NTS Wichita, to observe the plate being x-rayed. The enhanced x-ray images produced at NTS Wichita on June 1st, 2023, of plate serial number 20230310010 also showed the plate was void of penetration, (Exhibits B1 & B2 Cross Section 1 &  Cross Section 2).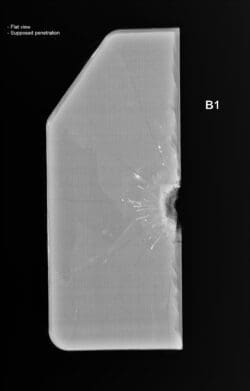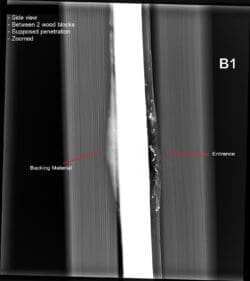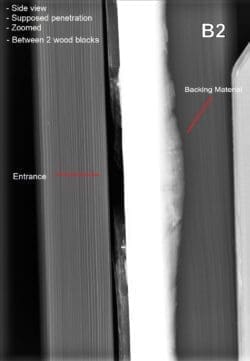 On June 20, 2023, RMA next met with NIJ's entire team in Research Triangle Park, NC, for 90 minutes to present its case. Weeks later, on August 4, 2023, NIJ rejected RMA's photographic and x-rayed evidence with no scientific explanation why. NIJ only requested copies of RMA's quality control documentation, which we immediately submitted.
Next, RMA respectfully asked NIJ to have additional samples of the plate model re-tested – per NIJ's own rules for a FIT (See Exhibit C1 and C2) since there was no variation in the construction of the originally compliant model – but the NIJ never replied.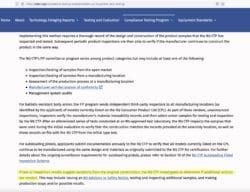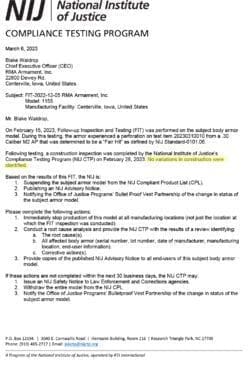 The next communication received from NIJ was on September 1, 2023, when NIJ sent a letter to RMA that stated "NIJ did not identify any manufacturing issues during the construction or processing of the subject armor." For reasons we still don't know issued out a Safety Notice on a plate that NIJ found no deviations in construction, no manufacturing issues and never suffered a complete penetration.
Since NIJ CTP has taken these actions against us with no true reasoning or proper due process, RMA has no choice but to defend itself and products every way possible. RMA will file a further appeal, while continuing to manufacture and sell the model 1155 plate without the NIJ Check Mark Logo.
RMA has already conducted a recall per NIJ's mandate March of this year on the affected lot. All other plates of different lots have been tested, approved, and therefore no recall is necessary and no returns will be accepted.