RMA Armament was honored to be part of the Made in America Product Showcase at the White House on Monday, July 17. The event included one representative company from each state and RMA was honored to represent the state of Iowa.
Attending the showcase were members of congress and the President's cabinet – along with Vice President Mike Pence and President Donald Trump – who spoke with company leaders at displays place around the White House's East Wing.
The Showcase concluded with Pence and Trump giving remarks about what it means for a product to be "American Made" and the pride it brings. The President also signed a proclamation, naming July 17 "Made in America Day" and July 16 – July 22 "Made in America Week."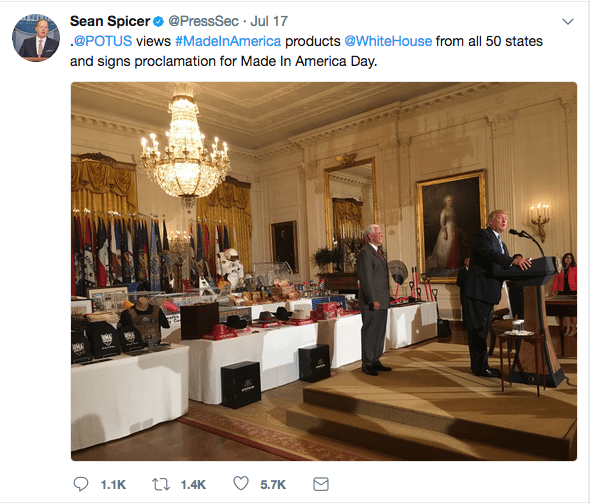 RMA was also honored to have Iowa Governor Kim Reynolds and Lt. Governor Adam Gregg to give a statement on our company as well.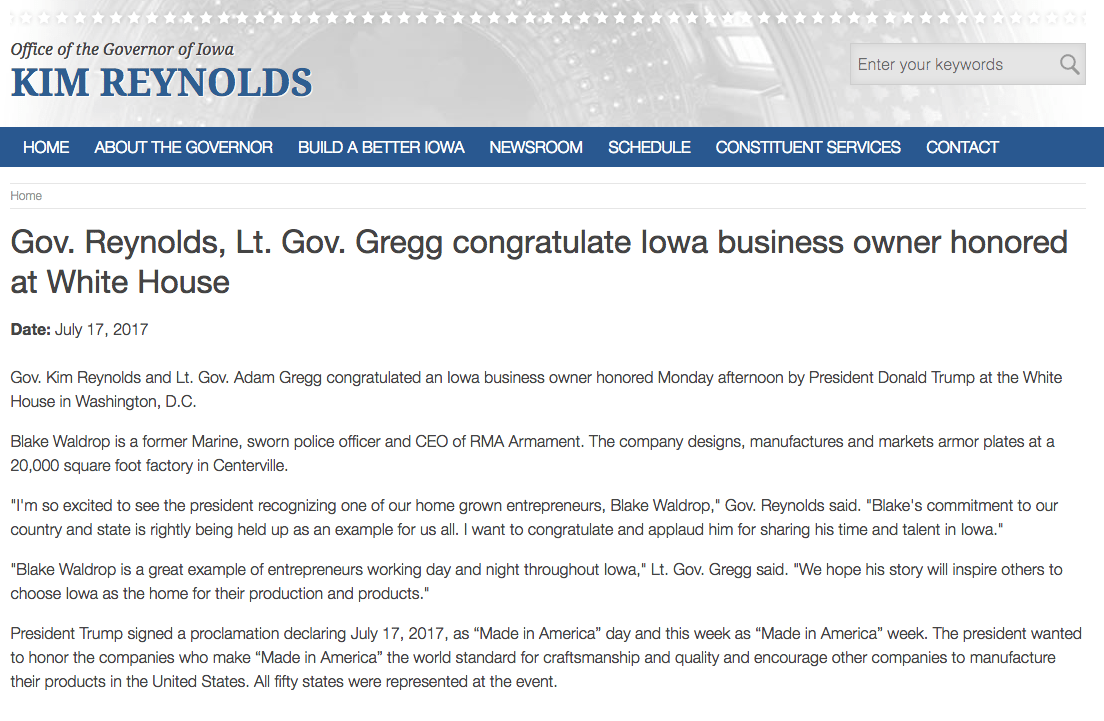 Here's a sampling of what the event was like through the eyes of the media.
Iowa Business Honored at White House
02:55
KWWL – Eastern Iowa Breaking News, Weather, Closings
KWQC TV
http://www.kwqc.com/content/news/RMA-Armament-showcased-at-Made-in-America-event-at-the-White-House-435045933.html
KCRG TV
http://www.kcrg.com/content/news/White-House-honors-Iowa-company-at-Made-in-America-showcase-435048543.html
Des Moines Register
http://www.desmoinesregister.com/story/money/business/2017/07/15/iowan-taking-his-worlds-best-body-armor-white-house/481548001/
Waterloo Cedar Falls Courier
http://wcfcourier.com/news/local/locally-owned-body-armor-firm-invited-to-white-house/article_4f9453f7-23c6-5fa3-b595-2de5c66fc12e.html
National Review
http://www.nationalreview.com/article/449634/made-ameerica-entrepreneurs-donald-trump-white-house-salutes-william-kristol-mocks
Guns.com
https://www.guns.com/2017/07/19/gun-stuff-on-display-at-white-house-showcase/