RMA Armament and Appanoose County Vets will be hosting the second annual 22 ALIVE; 22 mile March to raise awareness to prevent Veteran Suicide.
This year we will meet at 7 A.M. at the Travis Riddick memorial bench at the Centerville High School (600 CHS Dr., Centerville, IA, 52544).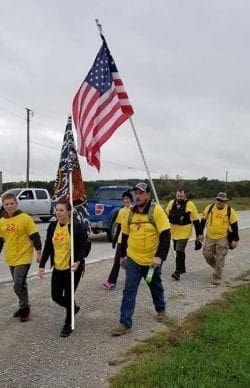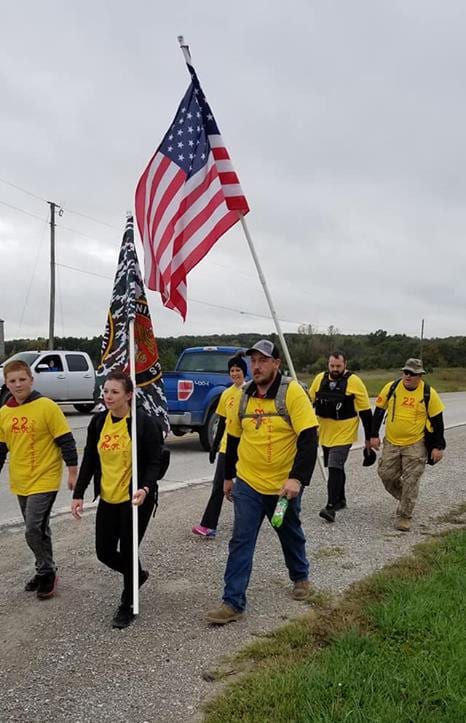 — Once all participants arrive we will be transported to the Welcome Home Soldier Monument in Albia, where we will begin the walk.
— We will head east on HWY 34 to HWY 5.
— Once on HWY 5, we will head south to the OLD HWY 5 turn off toward Moravia.
— We'll walk the OLD HWY 5 through Moravia and back to the new HWY 5.
— After reaching the new HWY 5 again, we'll head south toward Centerville.
— Once we reach the Centerville Hospital, we will walk down the old HWY and Shamrock Lane.
— From there, we will turn west and walk down Haynes Ave. until we reach HWY 2.
— From HWY 2 we will walk to Drake Ave.
— We will walk down Drake Ave. until we reach East Liberty St.
— Finally, we'll turn west on East Liberty St. and walk back to the Travis Riddick memorial bench at the Centerville High School.
You can make the journey individually or by team in a relay or leap frog style. The cost is $22.00 per person, which includes a 22 Alive T- shirt to wear on the march. You can register and pay via cash or check at RMA Armament or on the event page with your name and shirt size. To register, or for questions, call 866-978-7103 or 641-856-6597 or stop by RMA Armament at 22800 Dewey Rd. Centerville,  IA, 52544.  Make sure you are prepared with the right shoes, change of socks, water, protein bars, etc.
***If you can't make it to the walk you can sponsor a walker and pledge money for every mile they walk.***
100% of the money raised will benefit the Appanoose County Veterans Center.
If you would like to donate: PayPal.Me/veteranswalk